Helga Griesbeck had scheduled us for visits to Philippine Airlines in Manila, Cathay Pacific in Hong Kong and Air Niugini in New Guinea. This was as different to my first trip as night and day. The only commonality was the English background at Cathay Pacific with the Australians, but surrounded by the Chinese influence let you know it was different.
We went to Manila to visit the people at Philippine Airlines which was a wonderful experience. The people of the Philippines were delightful even with the security that surrounded everything - so much color and history. The basic problem here was that in order to do business in the Philippines, we needed an Agent which we did not have at the time. Much of our time during this visit and subsequent visits, was trying to find an Agent. This is as clandestine as it can get, especially in the light that Marcos was well known for his greed, and that was whom your Agent needed to get to. Nothing was achieved during this visit except some pleasant meetings with the people of the airline. Highlight of the trip was having lunch with the V.P. Maintenance and Operation in a tin shack with lizards on the wall. This was my first attempt at Callimari, excellent. The V.P. was a Philippine World War II hero and admired by all. I found him of high moral character.
Cathay Pacific is ENGLISH. That is why they operated 747s and L-1011s with Rolls Royce engines manufactured in England. Stewart John, Engineering Director, was the main point of contact set up by Helga. Stewart was a strong mainstay for Cathay and definitely a main source of contact. He was later to be knighted for his work at Cathay and in Hong Kong. However, we did not have the Rolls Royce engine on any of our aircraft. This put us at a definite disadvantage. It was nice to visit Hong Kong and I did get some Safari suits made.
New Guinea was of unique fascination to me in that my Uncle Tony spent three years there during World War II, fighting to keep the Japanese out of Australia. He was one of the first in the War and invaded New Guinea at Port Moresby in 1942. I was given a tour by one of the Americans working for the airline. He took me on a tour of the area and to the foot of the Kuboda Pass, which was infamous for its cruelty to the invaders and defenders. No man should have to fight in a place like that; and at the end of my uncles life, he stated that it was a place he did not want to fight a war.
Back to the airline which was being managed under contract by KLM, a Dutch Airline group. Their plans were to put some used stretched DC-8 aircraft to give the airline growth in the International market. Helga wanted to put a DC-10 into the airline. Again, without an Agent to help with the politics in the Island, little could be done. This would be the all consuming project and little would change by the work Helga did here. It was an opportunity to visit New Guinea which will occur again, as it was a special place to visit.
My first round was up, and to sum it up, I could not see anything that was encouraging. I did not see the urgency in Trans Australia. Their goal was to sit there until they could resolve the A-300 problem. They were not sold on a MD-80 fleet since their 727 aircraft were not that old. The area looked like status quo for the next several years.
Helga continued to work the agency problems in the Philippines and New Guinea while Bill and I worked the Trans Australia situation, as this seemed to me the only airline to work. In Australia, they had a two airline rule; this meant that the government airline, TAA, and the privately owned airline, Ansett, shall split the number of seats offered. As an example, if an airline could supply all the seats with two airplanes for fifty percent of the seats offered in Australia and the other airline used twenty aircraft, the airline with the optimum schedule to handle traffic would do best. With this rule, the airline with the smaller size can offer the greater number of frequencies. This is why the A-300 was hurting TAA. It was too large for the system. The only aircraft they were looking to replace was the older DC-9 fleet with a higher efficiency 110-seat aircraft.
During 1983, Douglas was beginning to look at offering two new versions of their aircraft, the MD-95 and MD-100. The MD-95 was a 110-seat version of the MD-80 with a redesigned wing and an engine derivative of the present engine on the MD-80. This seemed to fit the bill for an offer to Trans Australia. The MD-100 was an improved DC-10 that could possibly fit the bill at Qantas. Helga was still struggling with agents. We went on our next rounds with presentations and brochures on both aircraft.
In Trans Australia, we had a champion in Frank McMullen, Director of Engineering, who not only championed a DC-9 replacement but wanted Douglas to sell them the MD-80 to replace the 727 aircraft. We had progressed to the stage of making them an offer to assist in a launch of the MD-95 aircraft. Other than Frank Balls reluctance to make a decision, we had a detractor in Bryan Palmer, Passenger Service Director. He felt the cross section of the DC-9/MD-80/MD-95 would not fit passenger comfort levels found in the 727/737 cross section, especially in First Class. We had some long and arduous discussions regarding this subject.
We invited Bryan and Frank Ball to visit Long Beach and take a demo ride in the aircraft. They came to Long Beach, and we had scheduled a flight on an American Airline aircraft that was preparing for delivery after some flight test. The First Class section had no seats and had test equipment in the cabin area. Bill was to have the aircraft suitable for a demo; however, it never got accomplished. We lost a good chance to prove our point. We would never get the point of the improved comfort level of the MD-80 over the DC-9 to the Flight Service Director, and Frank Ball would use this to delay a decision.
There was definite interest in the MD-100 at Quantas, and we continued to pursue the direction of providing a Proposal Letter to their Management. The aircraft fit their route system and the level of technology improvements required to get their interest.
In October of 1983, McDonnell Douglas Management in St. Louis canceled any further discussions on the MD-95/MD-100 aircraft to the airlines. We were at a standstill in the Pacific and Asia area which was under my responsibility. If I thought Domestic Marketing would be quiet, this was going to be total silence. I guess someone must have thought along the same line, as they doubled my responsibility by giving me the rest of Asia. This included one salesman and one position to be filled. The countries added were Japan, China and Korea under one Sales Manager, still to be named. Malaysia, Indonesia, Thailand and Singapore were under Ken Fairless.
During this time period, Barbara and I were invited to go to India with a group, led by Pete Burns, to the IATA ( International Airline Transportation Association) Conference to be held in New Delhi. We were there to associate with the airline people that were in our area of responsibility, which was pleasant enough duty. It also gave the wives a chance to tour parts of Old and New Delhi, a once in a lifetime opportunity. The sights and sounds of the city and the Indian people was beyond description - fascinating, beautiful, overwhelming, ugly, and every adjective you have describes what you see and smell. It was grand.
On the last day in India, I was nominated to escort the wives to Agra to view the Taj Mahal. Barbara and I had a flight out of India at two in the morning, First Class on Air France. A tour was booked on one of the busses that make the run and return about six in the evening which was plenty of time to make our flight. The bus ride lived up to expectations, a suicide ride with a Kamikaze driver. Something should have driven the fear of God into me seeing burned out busses along the way, but we made it to Agra.
The Taj did not live up to my expectations; it was "Grander." This was a spectacle of beauty, intricate detail of stones and bright white. No matter which angle, it was the most beautiful building that I had ever seen. One could spend a full day looking at this edifice. I guess the original builder spent the rest of his life looking across the fields from the Red Fort, where he was held prisoner by his son; not a bad view.
The rest of the time was spent visiting places where objects of art are presented for sale. We made at least five stops, and at each you are beseeched by beggars presenting views of absolute horror. Soon you are exhausted by the sights and want out, and at last you head back to New Delhi with the Driver from Hell at the wheel.
With an hour and a half to go before we were to arrive in New Delhi, it had turned dark and we were blinded by a busses lights. As he passed, we suddenly saw that the road before us had a tree across the two lanes. In order to avoid the tree, the driver slowly moved to the right, and the bus began to slide down the slope and seemed to be nearing the point of turning onto its side, or worse on its back. Soon glass began to fly, none upon me but Barbara, who was next to the window, got sprayed. We came to a stop and fortunately had been stopped by two trees, each six inches in diameter - one on the side which caused the flying glass, and the one in front that stopped our forward motion. After we stopped I asked Barbara how she was; she said fine but her knee was hurting. I told her to sit still and I was going to see if we could get out quickly. She agreed, as I moved towards the front, remembering the many burnt busses along the route and wanting to get the front door open and start throwing people out. Someone stopped me, and I reluctantly returned to my seat hoping other people were anxious to get out of the bus. It took thirty minutes before anyone got around to opening the door and another thirty to get everyone out - too long. Thank heavens it did not burn. I still regret sitting down.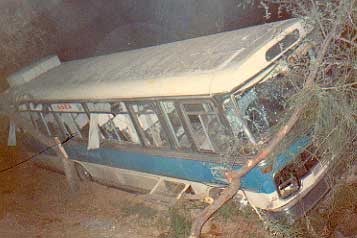 Bus Crash
The details of the remaining portion of our tour are as grueling, but we did get back to the hotel. Barbara was still picking glass from her body and limping. We had come very close to becoming another victim of Indian tourism, which is not unusual. We were able to pack, get one hours rest and get to the airport two hours before the flight, two very long hours. When we climbed into our First Class seats, we literally collapsed and as short as the flight was to Bangkok, it was heaven. Go back to India? At the drop of a hat, but on my terms.
Soon after the debacle with the MD-95/MD-100, a friend, Jerry Murphy, from Advanced Design came to me on official business. He described that with a small investment we could shrink the MD-80 to the size aircraft that we needed to meet TAA's 110-seat airplane; this became the MD-87. The one problem was that the economics were not as good as an aircraft with changes required to make an efficient wing. The aircraft could not stand alone, but attached to the MD-80s economics, may work.
We got permission to show it to TAA and the aircraft was offered to other carriers. Frank McMullen thought the aircraft was exactly what he wanted, and he agreed that it should be attached to an MD-80 offer to make the economics work out. However, we still had Frank Ball and the Director of Passenger Services to overcome, and we spent most of 1984 in this mode.
Howard Thrall was hired from outside the company. He was a previous employee of Douglas and was asked to handle the Japan and Korean accounts. He was a young, headstrong person, and it looked like I could let him do his thing. He was able to offer the MD-87 to TOA Domestic Airline in Japan and seemed to make headway. We were in a launch mode on the MD-87, and we needed to get a certain number of aircraft for a kick-off of the program; TAA was needed.
As 1984 proceeded, it became apparent that Frank Ball was not going to do anything and Frank McMullen was as frustrated as we were. In October of 1984, we were invited to participate in a meeting at TAA to negotiate an agreement for MD-83/87 aircraft. We had worked a package of 8 MD-8's and 12 MD-8's. This provided economics superior to the fleet of the 737 aircraft proposed by Boeing. We were the first manufacturer in TAA history to be invited to negotiate directly with the airline. After three days of intensive negotiations, we had a package suitable for the airline. This was being pushed by Frank McMullen. Frank Ball did not participate in these negotiations, assuming that he would be retired when these aircraft arrived.
We felt good about what we had accomplished, but there was still a nagging in the back of my head. We had not heard from Ansett and there were people in TAA that were not that enthusiastic about the MD-80/87 deal. Boeing was now offering the 737 with the GE CFM-56 engine, and it made an attractive airplane. The only reason the MD-87 looked good was because it was attached to the excellent economics of the MD-80. Some in the airline wanted the MD-87 to stand alone, which it could not. It was planned that in November, TAA would submit the offer to the board; that slipped to December, then the other shoe fell.
Ansett announced that they were planning to purchase the A-320, MD-80 sized aircraft, with the three-man cockpit. This, being a highly sensitive subject in Australia, brought TAA to a standstill. These political animals could not order an airplane with a two-man cockpit when the direct competition would purchase a three-man cockpit. Everyone at TAA knew this was an Ansett ploy to stop the MD-80/87 order, and it worked; everything stopped.
1985 started in limbo and it was difficult to say the least. Bill Kindell had to go into bypass surgery, and I was involved in other parts of the region. During my last visit to TAA, I had dinner with the Director of Customer Service, Bryan Palmer, the one man who would not support the MD-80 because of his concern for customer service. During this talk, I recommended that he change the name of the airline to "Australian" and put the Kangaroo on the tail. He got something out of this two-year odyssey, but mine was to come to an end.
During 1984, while the TAA competition developed, my additional territory which was provided me needed to be visited. Without the MD-100, Qantas and Air New Zealand were of little effort for Bill Kindle. Helga was still struggling with the agency problem which should have been taken care of years ago. Boeing was entrenched with Agents, and here we were trying to catch up, having abandoned our Agents years before. Ken Fairless at Singapore, without the MD-100, was a rower without an oar. We visited them to keep abreast of their thinking. Malaysia Airlines had 737s so Ken concentrated on the MD-87 on their regional routes. As hard as he tried, the aircraft was too large and expensive for this system.
Helga made a run at Brunei which was one of the most interesting trips taken during my tenure in the Pacific and Asia group. The richest man in the world was the Sultan with a lavish Mosque and castle and someone who could pay cash.
Our presentation was received like we were saviors from the technical and management levels of Brunei Airlines. They operated 737 aircraft but were very interested in the MD-80 to replace their aging aircraft, but Boeing had the Agent and we did not. Ultimately they purchased the 757 for the Sultans use and continued to operate the older 737.
Howard, with Jim Worshams help, got TOA to purchase the MD-87. The aircraft was launched, but without TAA. My estimate of Howard was correct. Leave him alone and he will do a better job than having Management on his back. He was doing well with the other carriers in Japan and had a good relationship with the Korean carriers.
Bill Kindle was in recovery from his bypass surgery, and I was trying to outline the remaining territory, attempting to assist Helga in the Philippines, New Guinea and Brunei.
During a trip to Washington D.C. with Howard to celebrate Korean Airlines new startup route, I was called from Australia by Colin MacDonald. Boeing had come into TAA with a proposal that reduced the price of the 737 aircraft by 1.8 million dollars each. This let them reach the economic level of the MD-87/80 proposal. This and other concessions beat our offer. TAA was ready to order the 737-300 at a price that we could not match. It was over from zero to almost a win and back to zero. It was a roller coaster ride, but in my view it was the only game in town; the dice were thrown and snake eyes. I was in the process of organizing my venture into the rest of the area; i.e., China, Korea and Thailand when the change came.
---