Bob graduated from Pasadena City College in June, 1953, three years in a two-year college. This occurred when, after a year as a physical education major, Bob shifted to a two-year course in Aircraft Design. This was with the intent that, after graduation, he would begin his lifetime career with an aircraft manufacturer. It was a time of rapid growth in the aircraft industry. The Korean War was coming to an end; the Cold War was heating up, and industry was in need of new engineers. This change was precipitated by a poster on the wall of the Administration Building, advertising the Aero Design course which attracted Bob and won him over. Airplanes were always one of his attractions; however, Bob had alot of catching up in the technical end of aircraft.
P.C.C. was the school designation during the 50's. For Bob, It was a totally new experience from high school. He entered high school as an introverted young man who was sitting in the background and not excelling in anything at the time. In his Freshman year, he went out for the basketball team as an awkward, skinny, but the tallest kid on the team. His total time the first year was approximately ten minutes playing time. The next three years were successful basketball years which brought on a level of popularity, but he still retained his inward expression.
In his Junior year he was elected Class President and in his Senior year, Student Body President. These positions helped him develop somewhat of a personality. He never kidded himself and realized that these offices were obtained through close friends who assisted him. It was a lesson he would not forget. He still wonders how these goals were obtained. His pride during his term as Student Body President was the winning of the Northern League Sportsmanship trophy. The student body was rated by their actions at sporting events, and were found to be the best sports persons of the league.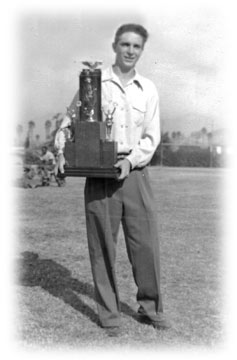 The Author, Robert Olivas
The Korean war started that June (1950), and Bob walked up the stairs to City Hall to join the Air Force, but changed his mind. He decided to wait to be drafted. Bob attended P.C.C because his sister, Angela, had decided that it was the school she wanted go to. P.C.C. was a party school and he found himself deeply ensconced in this lifestyle. This was totally alien to Bob in high school. Bobs first intent at City College was to play basketball, his sport in high school, but this deteriorated into a losing situation. He became interested in the lighter side of college life - parties and drinking with sports as a sidelight. Three years can go by fast with an "active" life-style which was available at P.C.C.
Graduation was frustrating in that Bob started to see that education did not end with an Associate of Arts degree, and that many of his friends were going on to other schools of higher education - many to USC or UCLA. USC was too expensive and UCLA did not have the Aeronautical major to follow up with the Aero Design major at P.C.C.
At graduation, Bob had obtained a job as a "B" Draftsman at Douglas Aircraft in Long Beach, California. He was surrounded by a sea of engineers in a windowless building dedicated to creating thousands of drawings for development of the C-133 Cargomaster aircraft for the Air Force. The first thing Bob noticed was that the designers were of college graduation level.
With only three months before the start of the school year, Bob quickly tried to determine which school would be affordable and had an Aeronautical Engineering major. He knew that he would have to pay all the expenses from the money he made during the summers at Douglas. The management at Douglas was very encouraging about returning to school.
Bob applied at Cal Poly in San Luis Obispo and was told that he would be accepted, if he could pass several tests based on courses that he had not taken in high school or P.C.C, these being Chemistry and Physics. He sweated through these exams, passed and was accepted.
Being accepted was only the first step for Bob. When he found out that the school was only going to accept a minor portion of his previous school credits that it required, he nearly had to start over with his college career. This was a setback to say the least. The one saving grace to all this was that the cost of the yearly tuition and living expenses would fit in with his job at Douglas if he lived at home during the summers, something he did not want to do, but the options were few.
Cal Poly was an all-male school, located in the middle of farm country, where the nearest port to civilization was Santa Barbara, 100 miles to the South. This definitely was going to be a lifestyle change. It was these features at Cal Poly that Bob gives his credit to graduating from college. In a lifestyle like Pasadena City College, he would never have made it.
It was also at this time, October 1953, that Bob was drafted. However, the Korean war was over and Bob was now an Engineering major. It was easy to get a draft deferment. He always wondered why he did not get drafted when the Korean War started, when he was eighteen and a Physical Education major.
Despite going on probation after the first quarter, Bob was able to settle into a routine of school - intramural sports (seven championships), movies, pizza and beer and having a group of friends that helped make the time slip by. A social life with the opposite sex was non-existent in San Luis Obispo due to the few number of females, and these were of little interest to Bob.
However, near the end of his third year, Bob was driving in downtown San Luis when he spotted a tall blond walking across the street wearing a blue coat; it was a damp cool day. Bob had not seen this girl in town before. Upon returning to campus he queried his dorm friend, Wellman Branstrom, who had a local girlfriend, if he would check with her to see if she may know her. As it turned out, she was a very close friend. Barbara had been in Chicago staying with her brother and sister in-law for a year and had just returned to San Luis Obispo.
A date was arranged and on February 1st, 1957, Bob and Barbara were married, six weeks before graduation. Their honeymoon consisted of two nights in Santa Maria at Ricks Hotel. Barbara became the sole supporter until graduation. Bob began his job with Douglas Aircraft as an Aerodynamist in the C-133 Performance Group in March 1957.
---